econovation®
the twirl behind your business
> home | series and fields of applications
series and fields of application
ecowirl g serie
In combination with the specific fields of application the ecowirl generator series covers a wide range of requirements, so that we can always offer you an optimal solution. From ecowirl separation procedure via the degasification through to ecowirl mixing procedure we have developed a suitable product for every industrial sector.
Our generators cover three different levels of capacity.
Flow rate capacities up to 500 m³/h can be realized due to the modular ecowirl generator technique. In this way, small, medium-sized and big companies of many industrial sectors can benefit from our compact and efficient generators.
highly versatile
Every industrial sector has different profile of requirements. And right there the ecowirl technology comes into play. Optimized for any application area, the generators have been developed as a versatile, modular system. Therefore, currently flow rates up to 500 m³/h can be treated.
series and fields of application
ecowirl m serie
revolutionary vortex for the paper industry
The ecowirl technology enables a new dimension of mixing and separating including new degasification and precipitation processes. The system has no moving parts and therefore guaranties a very high reliability. It is expected that the ecowirl process will change many other industrial sectors and their processes.
ecowirl mixing and dosing system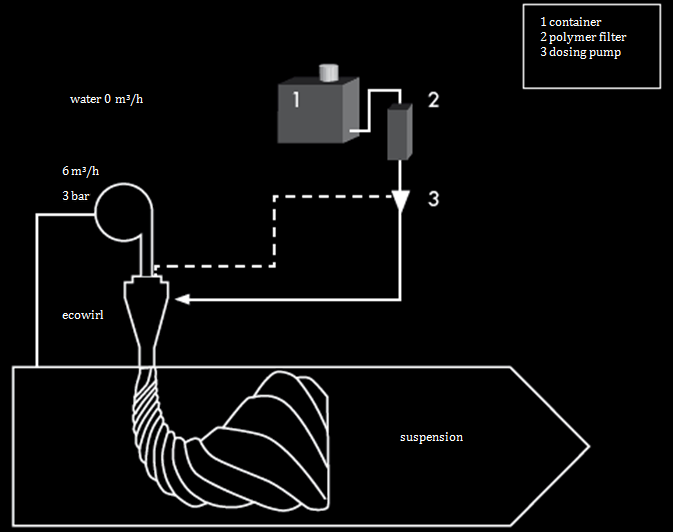 know innovations – use innovations.
The ecowirl technology uses available process water completely without need of fresh water supply. The system is extremely low-maintenance due to minimal technical use of just three system parts and a locking sensor. On top of this, it is more sterile than traditional mixing and dosing systems thanks to the continually flowing self-cleaning design.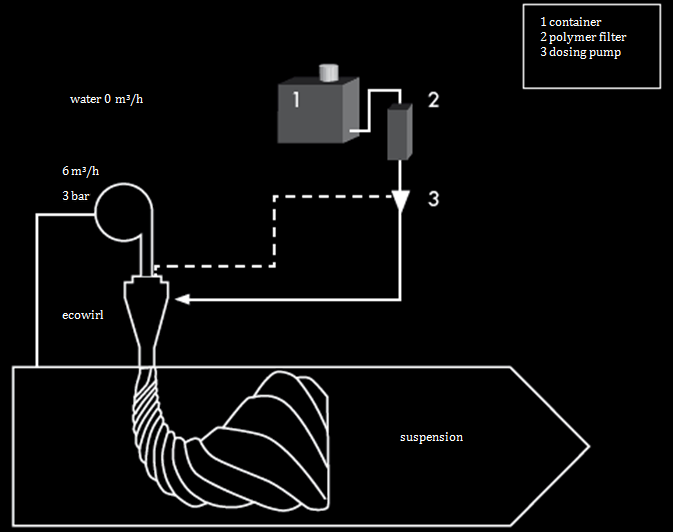 the ecowirl m is an absolute maintenance-free mixing-system
The construction and all surfaces are self-cleaning. Directly introduced sterile additives with up to 50 % solid content are processed perfectly. The construction of this inflow is designed without low-flow areas. The ecowirl m turbo-outflow leads to a flawless hygiene and mixing quality in the main pipe, as well. The entire ecowirl m process meets the highest mixing and dosing demands: simple, compact, fast responding, hygienic and ecologic.